Best Brand New Air Conditioner Brands 2022
Choosing a brand new air conditioner for your home can be a tedious process with the amount of options available on the market.
If you're looking to invest in a high quality unit for your home then there are many brands for you to consider. Our goal is to help you find the brand new air conditioner that is perfect for your home and the needs of your family. Investing in a high quality air conditioner today buys you home comfort for years to come and increases your property value. Now let's take a look at some of the best air conditioner brands available on the market today and help you choose which A/C is right for your home.
Amana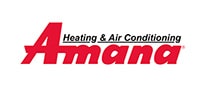 Amana has been making affordable and reliable home air conditioning systems that are designed, engineered, and assembled in America since 1934. Amana's exceptional high efficiency units provide great value at an affordable price. If you're looking for the most value out of your brand new air conditioner, an Amana AC may be what's right for you. Their ComfortBridge smart home technology collects system performance data to automatically make adjustments and minimise energy usage. Amana has one of the best warranties of all HVAC brands. Along with the standard 10-year warranty, you also get a Limited Lifetime Replacement Warranty for the compressor.
The Amana ASXC16 unit has quiet operation and a SEER rating of up to 17. This unit has a two-speed condenser fan motor and two-stage compressor that will save you money on your monthly energy costs. The installed cost for the Amana ASXC16 ranges from $3,300 and $6,400.
Lennox
According to the Consumer Reports' owner survey, Lennox air conditioners are some of the most reliable on the market. Lennox offers 11 air conditioner models to choose from featuring two-stage or variable speed compressors that cool your home with precision. Lennox's XC25 unit has a 26 SEER rating with the lowest operating cost of any AC unit and ultra-quiet 41 dB noise level. Most Lennox units include only a 5-year parts warranty, although select models have a 10-year warranty.
The Lennox Elite Series EL16XC1 is a single-stage air conditioner with a SEER rating up to 17. The unit can handle extreme heat and severe weather conditions with Lennox's Quantum Coil and fortified aluminium exterior. If you want your brand new air conditioner unit to be extremely durable, this may be the right unit for you. The Lennox Elite Series EL16XC1 with installation will cost anywhere between $3,700 to $9,300.
Trane
Trane provides quality and dependable air conditioners that will satisfy the home comfort needs of any homeowner. The only downside of Trane's air conditioners is their price. Trane units can be very expensive and may not be worth the price if you don't live in a hot climate. Trane air conditioners feature their TruComfort technology that works to reduce humidity by running for longer periods at lower speeds rather than shutting off to remove moisture from the air. If you live in a particularly humid climate, a Trane unit may be the brand new air conditioner that's right for you. Trane is ranked the second most reliable A/C brand in the Consumer Reports survey.
Trane units come with a standard 10-year parts and labour warranty and a 12-year compressor warranty.
The Trane XR16 unit operates on a single stage cooling system, has a 17 SEER rating and offers up to 54% in energy savings. The cost for the Trane XR16 air conditioner with installation ranges between $3,900 and $11,000.
Carrier
Carrier makes reliable air conditioner systems for the multipurpose uses of modern living. Carrier units are on the pricier side, but they require all installers to be certified by the company which guarantees a proper installation for your home comfort investment. Their units all have Copeland compressors that are made to cool your home more precisely. Carrier A/Cs also have quality insulation and chassis which make them the quietest central A/C on the market. Carrier units come with just the standard 10-year parts warranty.
With the Carrier Comfort 16 unit you get up to 17 SEER efficiency rating, durability, quiet operation, and environmentally friendly. The cost for this unit with installation ranges from $3,500 to $6,900.
Rheem
Rheem air conditioners are in the middle price range as they specialise in making affordable and efficient equipment. Rheem makes environmentally friendly products and is committed to design for zero waste by 2025. Rheem's standard offering includes three series of multi-stage and variable speed air conditioners, which other companies consider as premium add-on features. A feature which some homeowners may find attractive is that Rheem's EcoNet systems can be programmed and voice-controlled using Amazon Alexa. Rheem air conditioners come with a 10-year limited warranty for parts and compressors.
The Rheem Two-Stage RA17 operates at up to a 17 SEER efficiency with two-stage cooling. The two-stage cooling feature allows the system to operate at either 67% or 100% providing precise temperature control, low humidity, and operating efficiency that will save you money on your monthly energy bill. The Rheem Two-Stage RA17 with installation will cost between $2,900 and $6,000.
Summary
Amana – Best value / Most reliable
Lennox – Highest efficiency rating
Trane – High quality, but expensive
Carrier – Most reliable
Rheem – Best warranty
We hope that after introducing you to some of the top air conditioner brands on the market you have a better idea of what you're looking for in a brand new air conditioner. If you need some assistance in choosing the perfect air conditioner for your home or have any other HVAC related concerns, don't hesitate to contact us today. DeMark Home Ontario offers purchase, rental, and financing options for the top air conditioner brands in the market. Our quick and efficient air conditioner replacement is done by our team of fully licensed and trained HVAC technicians. Give us a call at 1 (855) 998-2998 or fill out our online request form and we will be happy to assist you with your request.
Easy Rentals...
get total piece of mind with our High Efficiency Furnace and Air Conditioner
Rental Program
.