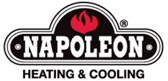 Napoleon 9200 Series Gas Furnace
Industry's First 30,000 BTU Furnace
Model: 9200
One of the smallest 92.1% AFUE furnaces on the market
Factory-fired and tested for trouble-free start-ups
Multi-position (upflow, horizontal right and left)
Multiple intake/venting, gas pipe and electrical connection options
Certified to 4500 feet in Canada with no modification
Clear condensate collector to view furnace performance
Description
Key features
Warranty Information
Resources
Accessories
Today's modern homes are being built with the utmost attention to energy savings. In urban areas, smaller and more efficient furnaces are in demand because with oversized higher efficiency furnaces the efficiency savings are ultimately being wasted and the furnace life shortened. With these trends at an all time high, there is a need for lower BTU furnaces. Napoleon® meets this challenge with one of the smallest furnaces and the lowest input of 30,000 BTU's in the industry. Napoleon 9200 Series Gas Furnace start at the industry's lowest input of 30,000 BTU's and range up to 120,000 BTU's, with AFUE's (Annual Fuel Utilization Efficiency) up to 94%. These furnaces, with their superior design and engineering, provide reliable, safe and efficient heat for your home. With 10 models to choose from, there is one perfectly suited for your home.
Corrosion Resistant Heavy Gauge Aluminized-Steel Tubular Triple-Pass Heat Exchanger
Controlled wrinkle-bend design of heat exchanger creates tubes with consistent thickness and no weak areas
Highly-efficient triple pass tubular design has a large surface area to maximize heat transfer
Each row of tubes is offset to increase turbulence in the airflow and maximize heat transfer
Stainless Steel Heat Recovery Coil

Extracts the remaining heat from the flue gases once they exit the triple-pass heat exchanger
Increases efficiency by evenly distributing the remaining heat to the coil's large fins
The Heat Exchanger is backed by our President's Limited Lifetime and Limited Replacement Guarantee* for your peace of mind
Aluminized Multi Port in Shot Burners

Corrosion resistant burners with Napoleon 9200 Series Gas Furnace
Perfectly shapes the flame cone for maximum flame efficiency
Self Diagnostic Integrated Furnace Control (IFC)
Contains LED service indicator lights to ensure quick and accurate service calls
Constantly monitors all safety devices on Napoleon 9200 Series Gas Furnace
Interfaces with additional home comfort products using simple plug-in connections
Mounted between the blower rails for easy accessibility
Key features
One of the smallest 92.1% AFUE furnaces on the market
Factory-fired and tested for trouble-free start-ups
Multi-position (upflow, horizontal right and left)
Multiple intake/venting, gas pipe and electrical connection options
Certified to 4500 feet in Canada with no modification
Clear condensate collector to view furnace performance
10 years parts limited warranty and 20 years heat exchanger limited warranty.
Financing Options
No matter your financial situation, we want to make sure you can keep your home comfortable. DeMark Home Ontario has partnered with leading financial institutions in the area to provide affordable financing options with low monthly payments.
Easy Rentals...
get total piece of mind with our High Efficiency Furnace and Air Conditioner
Rental Program
.