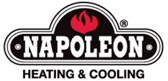 Napoleon 9700 Series Furnace
The shortest two-stage 97%+ AFUE furnace on the market
Model: 9700
Built-in UV Light Air Purifier to improve indoor air quality and help kill bacteria
Zero clearance with no additional kits provides installation ease in closets and alcoves
Factory-fired and tested for trouble-free start-ups
Multi‐Direct vent (two pipe) and single vent (one pipe) certified with optional concentric venting furnace adaptable to any configuration with no additional kits
Napoleon Elite Communicating Thermostat ready
Description
Key features
Warranty Information
Resources
Accessories
Napoleon 9700 Series Furnace features a two-stage gas valve and a variable-speed energy efficient ECM blower motor. Napoleon's two-stage furnace reduces temperature swings within your home, maintaining a more consistent, comfortable temperature. At up to 97.1% AFUE, Napoleon 9700 Series Gas Furnace will operate on low fire for greater efficiency and comfort for most of the heating season. On colder days, when the first stage cannot satisfy the heating demand, the furnace will (automatically) switch to the second stage, producing more heat to satisfy demand. Ultimately this balancing of the heat production results in quieter operation cycles and less energy being consumed throughout the heating season. An added benefit is increased comfort due to better balanced temperatures in the home.
Commercial Grade Stainless Steel Tubular Triple-Pass Heat Exchanger
Controlled wrinkle-bend design of heat exchanger creates tubes with consistent thickness and no weak areas
Highly-efficient triple pass tubular design has a large surface area to maximize heat transfer
Stainless Steel Heat Recovery Coil
Extracts the remaining heat from the flue gases once they exit the triple-pass heat exchanger
Increases efficiency by evenly distributing the remaining heat t othe coil's large fins
Aluminized Multi-Port in Shot Burners
Corrosion resistant burner that perfectly shape the flame cone for maximum flame efficiency on Napoleon 9700 Series Gas Furnace
Two Stage Gas Valve
First/low-stage operates at 60% of full capacity for optimum fuel efficiency on most days
Second/high-stage provides maximum heat for bitter cold and quick recovery rom thermostat set back
Self Diagnostic Integrated Furnace Control (IFC)
Built in LED lights in upper and lower compartments automatically turn on when bottom door is opened
The patented "SureView" window offers a unique view of the flame in operation
Contains LED service indicator lights to ensure quick and accurate service calls
Constantly monitors all safety devices
Interfaces with additional home comfort products using simple plug-in connections
Mounted between the blower rails for easy accessibility
Electronically Commutated Motor (ECM)

Reduces electrical consumption by up to 80% over conventional blower motors
Soft-start soft-stop operation reduces noise levels by gradually increasing motor RPM's at start-up and ramping down slowly on shut down
On continuous fan speed, the ECM motor consumes 60-80 watts compared to 400 watts for a conventional motor, reducing electrical consumption up to 80%
WHISPER QUIET™ operation with Napoleon 9700 Series Gas Furnace
Durable Sound Reducing Insulated Cabinet
Baked-on powder coat paint resists scratching and corrosion (no sharp edges)
Acoustically insulated blower compartment & thermally insulated heat exchanger compartment for quiet operation and reduced clearance to combustibles
Key features
Built-in UV Light Air Purifier to improve indoor air quality and help kill bacteria
Zero clearance with no additional kits provides installation ease in closets and alcoves
Factory-fired and tested for trouble-free start-ups
Multi‐Direct vent (two pipe) and single vent (one pipe) certified with optional concentric venting furnace adaptable to any configuration with no additional kits
Napoleon Elite Communicating Thermostat ready
15 year unit replacement heat exchanger limited warranty, lifetime heat exchanger limited warranty, and 10 year parts limited warranty.
Financing Options
No matter your financial situation, we want to make sure you can keep your home comfortable. DeMark Home Ontario has partnered with leading financial institutions in the area to provide affordable financing options with low monthly payments.
Easy Rentals...
get total piece of mind with our High Efficiency Furnace and Air Conditioner
Rental Program
.