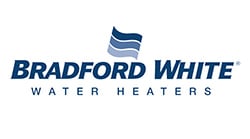 Bradford White Atmospheric Vent Water Heater 50 Gallon – RG250S6N
Atmospheric Vent FVIR Defender Safety System®
Model: RG250S6N
Price includes standard* installation
Vitraglas enamel lining helps to extend tank life
Hydrojet sediment reducing device increases 1st hour delivery and minimizes temperature build-up in tank
Non-CFC foam covers the sides and top of the tank, reducing heat loss
Factory-installed heat traps reduce stand-by heat loss
Sight window allows to observe the operation of pilot and burner
Protective magnesium anode rod
Sizes Available: 40 / 50 Gallons
Description
Features
Resources
Bradford White Atmospheric Vent Water Heater 50 Gallon – RG250S6N model is a 50-gallon natural gas (NG), short-profile atmospheric vent residential water heater with 6-year warranty. T&P valve included.
Features:
Defender FVIR system w/ ScreenLok flame arrestor prevents ignition of flammable vapors outside the water heater
Vitraglas enamel lining helps to extend tank life
Hydrojet sediment reducing device increases 1st hour delivery and minimizes temperature build-up in tank
3″ x 4″ Snap-Lock draft diverter allows for 3″ or 4″ vent connections
Non-CFC foam covers the sides and top of the tank, reducing heat loss
Factory-installed heat traps reduce stand-by heat loss
Sight window allows to observe the operation of pilot and burner
Protective magnesium anode rod
Pedestal base
Technical Specifications:
Fuel: Natural Gas (NG)
Nominal Capacity (Gallons): 50
Rated Storage Volume (Gallons): 47
Input (BTU): 50,000
Uniform Energy Factor: 0.63
Recovery Efficiency: Up to 80%
1st Hour Rating (Gallons): 89
Recovery Rise @90° F (GPH): 54
NOx Emissions: less than 40ng/J
Water Connections: 3/4" NPT
Gas Connection: 1/2" NPT
Max Working Pressure: 150 PSI
Ignition Type: Piezo push button ignitor
R-Value: 16
Insulation Thickness: 2"
Vent Type: Atmospheric (Standard)
Vent Size: 4"
Vent Material: B-Vent
Dimensions (Diameter x Height): 22" x 60-5/8"
Weight (lbs): 167.
Warranty:
6-year limited tank warranties / 6-year limited warranty on components parts