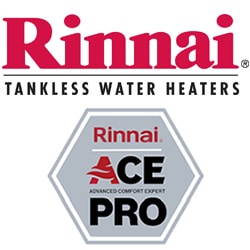 Rinnai RU180IN Tankless Water Heater | 10 GPM
SENSEI™ RU180iN Super High Efficiency Plus condensing tankless water heater
Model: RU180IN
Price includes standard* installation
ENERGY STAR® Qualified with an Energy Factor of 0.95
SENSEI™ Super High Efficiency Plus condensing tankless water heater
Energy Savings up to 40%
Space saver-tankless units are mounted on the wall saving you floor space
Hot Water Flow Rate - 10 GPM / (37.9 l/min)
Quiet in operation
Unparalleled Efficiency & Compact Design
Description
Key features
Features
Resources
Because Rinnai RU180IN Tankless Water Heater heat water as it passes through the unit and doesn't need to store it, you will have an endless supply of hot water on demand. When there is a demand for hot water, the unit senses the flow and starts the heating process. This results in hot water that is not limited to what's available in your tank, so you always have clean, hot water when you want it for as long as you need it!
Energy Savings up to 40%
Standard tanks constantly use energy to keep water hot inside the storage unit. Rinnai Tankless Water Heater eliminates the constant use of energy as they only use it on demand of hot water. When the demand for hot water ceases, the tankless unit shuts down and uses no energy. You could potentially save up to 40% on your energy consumption for hot water heating.
Space Saver
Tankless hot water heaters do not have a water storage unit comparing to the standard type of hot water heaters. Rinnai Tankless Water Heater is mounted on the wall therefore saving you valuable floor space.
Environmentally friendly
Rinnai RU180IN Tankless hot water heaters only use energy when you need hot water therefore they reduce your energy consumption and CO emissions being environmentally friendly equipment.
Quiet in operation
Tankless units are whisper-quiet in operations and will never create destructions to your household.
Reduced risk of water damage
If you ever head your standard hot water break and leak then you are aware of the damages it can cause to your home. Because tankless hot water heaters do not have a water storage unit they reduce the risk of having water damage.
Tankless hot water heaters last longer than standard type of water heaters
Typical hot water heaters last you about 10 to 12 years, tankless units are made to last 15 to 20 years. This provides you with maintenance, repairs and replacement savings over the life of the unit. Stay worry free and enjoy endless supply of hot water on demand.
Key features
Price includes standard* installation
ENERGY STAR® Qualified with an Energy Factor of 0.95
SENSEI™ Super High Efficiency Plus condensing tankless water heater
Energy Savings up to 40%
Space saver-tankless units are mounted on the wall saving you floor space
Hot Water Flow Rate - 10 GPM / (37.9 l/min)
Quiet in operation
Unparalleled Efficiency & Compact Design
ENERGY STAR® Qualified
Energy Factor of 0.95 / Uniform Energy Factor of 0.93
Certified for Installation in Manufactured (Mobile) Homes
Enhanced scale detection lessens possibility of serious, long-term damage to unit
Temperature lock function prevents accidental or unauthorized changes to water temperature
Leak detection shuts off water to the interior units to limit property damage
Complies with South Coast Air Quality Management District 14 ng/J or 20 ppm NOx emission levels
15,000 BTU (Minimum) / 180,000 BTU (Maximum)
Financing Options
No matter your financial situation, we want to make sure you can keep your home comfortable. DeMark Home Ontario has partnered with leading financial institutions in the area to provide affordable financing options with low monthly payments.
Easy Rentals...
get total piece of mind with our High Efficiency Furnace and Air Conditioner
Rental Program
.