Finishing your basement, Upgrade your furnace and hot water heater venting in Toronto and GTA. Do it Now, before it is too late.
Are you thinking to do renovations to your basement in Toronto, GTA, Ontario?
S

top, before going any further with your plans and read this article as it might help you save hundreds of dollars and not make a common homeowners mistake which can lead to even higher costs.
If you are set with your plans on finishing or renovating your basement, one of the most important factors to consider is the location of your furnace room and furnace itself. Did you know that most of the furnaces in Toronto, GTA over 10 years of age are considered to be mid efficiency, meaning they vent all the combustion gases outside through a masonry chimney? Same goes for mid efficiency hot water heaters. Now let's assume that you will require an upgrade to a new furnace or a high efficiency hot water heater some time soon. New energy efficient equipment uses a different venting system called PVC, a plastic pipe which vents all gases outside through the side wall. If your furnace room is located on the side of the house, meaning it has at least one outside wall then you might be safe with the new equipment installation costs. However, if your furnace room is located at the middle of your basement and for the new venting to go outside, it would need to go through your whole newly renovated basement might be a problem. The pipe cannot just be going through your newly renovated basement, which means it needs to be covered. The best scenario is to have a hanging ceiling or consider equipment relocation to a better spot before you start the renovation.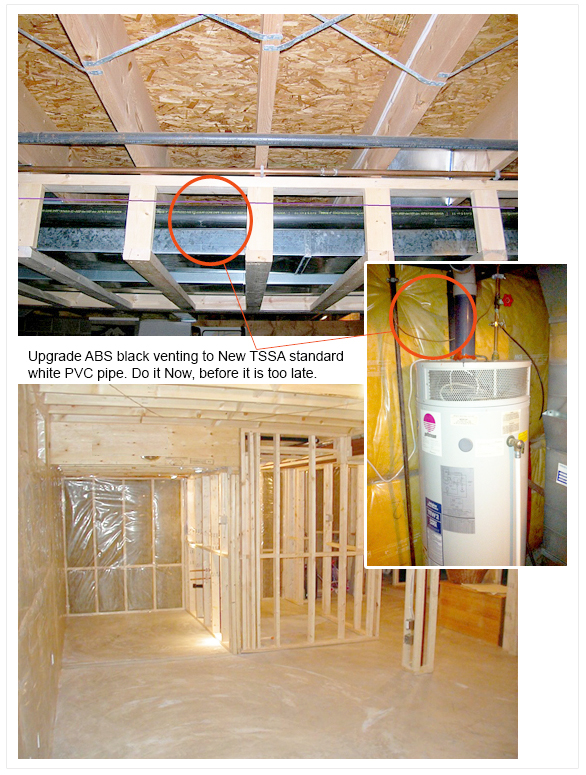 If you already have energy efficient furnace or hot water heater, also be alert! Finishing your ceiling and walls and covering the venting inside is not a good idea. In Toronto and Ontario new TSSA standards require that all Black ABS venting for high efficiency equipment now also needs to be upgraded to White PVC venting whenever replacing your equipment to prevent any carbon monoxide leakages. This means if your old venting is sealed under the ceiling or walls, they would need to be demolished for the old venting to come out and for the new one to be installed. If you think your renovations were expensive, think how much more demolishing and then restoring your basement back can cost.
TIP! If your are still planning to cover your venting inside the ceiling or walls, ensure that the pipe goes in a straight direction and you have windows throughout the sealed space, through which it can be pulled out and upgraded to a new one. Hanging ceiling or equipment relocation might also be a good idea.
If you live in Toronto, GTA and renting your hot water heater, there is a high chance that your existing hot water heater provider will not upgrade hot water heater venting until it is about 16 years of age or breaks, moreover many water heater providers will not upgrade your hot water heater venting free of charge and the cost can be up to $500. We can help you upgrade your rental hot water heater and venting FREE of charge. Consult one of HVAC heating specialist before finishing your basement as it might be a good idea to upgrade your equipment to a high efficiency one now which will last you years more to come and would be one less thing to worry about. Our Toronto, GTA HVAC specialist would be able to help you find the best optimal solution for your home and needs.
By phone: 647-847-2998 or Toll Free 1-855-998-2998