Gas Furnace Types and AFUE Efficiency
Understanding the differences between gas furnace types and their fuel efficiency will help you make a smart choice on your new furnace.
Your home's furnace plays a crucial role in your household as it provides your family with a comfortable environment to live in throughout the year. You expect this extremely useful appliance to work efficiently and to provide you with the comfort that you paid for. To better understand the inner workings of a gas furnace, it is of great importance to know the different gas furnace types and what differentiates them.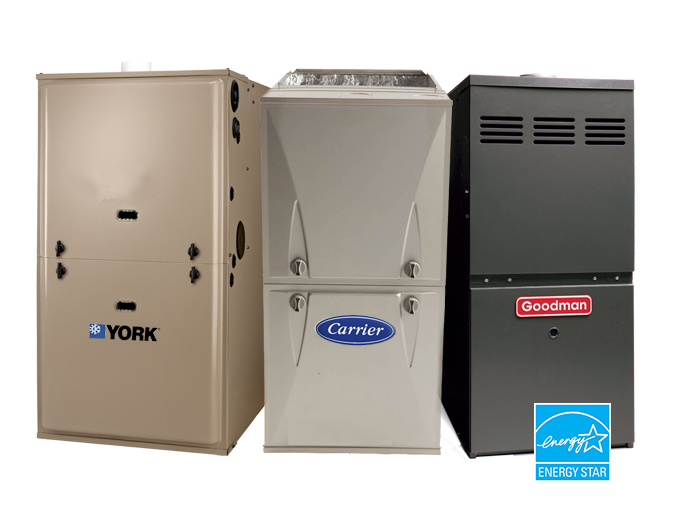 Conventional and Condensing Furnaces
Gas furnaces can all be placed into two categories of gas furnace types: conventional and condensing. Conventional furnaces predate condensing furnaces, but are still readily used today. Conventional furnaces exhaust combustion gases straight into the chimney before they cool, which means condensate is not created. Because of this, the furnace heat exchanger is not able to capture all of the heat created by the fuel. Condensing furnaces were created to make up for this fault as they provide a more efficient heating solution. Condensing furnaces are able to use the heat created by the fuel after the gas has already been cooled and turned into condensate.
Single-Stage, Two-Stage, and Modulating Furnaces
The classifications of furnaces go further than just the two gas furnace types: conventional and condensing, there's also the furnace blower operation to consider. Furnace blowers can be either single-stage, two-stage, or modulating. Single-stage furnaces would be the least expensive as their blowers only operate under one setting. Two-stage furnaces are a bit more complex as they can operate on a high and a low setting and will change in between these settings depending on the amount of heating that needs to be done. Modulating furnaces are the most complex of the gas furnace types as they allow for incremental adjustments in the blower and burner's operation to keep the temperature as close as possible to the thermostat setting.
Understanding AFUE Ratings
A furnace's efficiency is categorized by its Annual Fuel Utilization (AFUE) rating. This rating measures the amount of fuel that is turned into heat inside the home. A higher AFUE rating indicates a more efficient furnace. An indication of a high efficinecy furnace is an Energy Star certification. Energy Star certified furnaces are high efficiency furnaces and must have a minimum AFUE rating of 90%.
55 to 72 percent AFUE
55 to 72 percent AFUE furnaces are no longer sold on the market, but can still be found in some older homes. An 80% AFUE rating is the minimum standard for all new gas furnaces. Furnaces in this efficiency range operate using a single-stage blower and burner and don't have an electronic ignition. These furnaces also have a cast-iron heat exchanger and a natural draft exhaust.
78 percent AFUE
A 78 percent AFUE rating furnace is considered a low efficiency furnace by today's standards. These furnaces have an electronic ignition, single-stage burner and blower, and a steel heat exchanger.
80 to 83 percent AFUE
This is the minimum efficiency level for furnaces that you will find on the market today. Furnaces in this range are considered to be moderately efficient. Though this is the current minimum standard for furnace manufacturers, most exceed this standard and produce high efficiency furnaces which are more desirable to consumers. 80 to 83 percent AFUE furnaces would have either a single-stage or two-stage blower and burner, electronic ignition, and a steel heat exchanger.
90 to 98 percent AFUE
Furnaces in this energy efficiency range are Energy Star certified and will provide your home with an efficient heating solution. The Energy Star program was created to combat greenhouse gas emissions. Having an Energy Star certified furnace in your home gives you the ability to take advantage of tax and rebate benefits which were created to give incentive to consumers to help the environment. You will also find that by choosing an Energy Star certified furnace you will be spending less on your utility bills as less energy will be wasted in your home. Every furnace manufacturer has a range of high efficiency furnaces in their product line giving you many to choose from. High efficiency furnaces are all condensing furnaces with variable speed blowers.  High efficiency furnaces have single-stage, two-stage, or modulating burners. Their other features include a steel heat exchanger, a second stainless steel heat exchanger for condensing flue gases, and a sealed combustion chamber.
Knowing this information about the various gas furnace types and what distinguishes them from one another should help you make an educated decision when choosing your home's next furnace. If you have any further questions about gas furnace types or any of your other HVAC concerns, don't hesitate to contact us at anytime. Our highly trained and experienced technicians are more than prepared to assist you with any of your furnace problems. We provide efficient and quick furnace replacement done by our team of HVAC professionals. Give us a call at 1 (855) 998-2998 or fill out our online request form and we will be happy to assist you with your request.
Easy Rentals...
get total piece of mind with our High Efficiency Furnace and Air Conditioner
Rental Program
.