Gas vs Electric Water Heaters
A key question to consider if you're looking to upgrade your home's water heater is whether a gas vs electric water heater is best for your home.
If you know your water heater needs an upgrade but are unsure which type of water heater is best for your home, you've come to the right place. Gas vs electric water heaters operate differently, and both have their pros and cons. Whether a gas or electric water heater is best is entirely dependent on your home and needs. The rest of this article will be dedicated to helping you make that decision.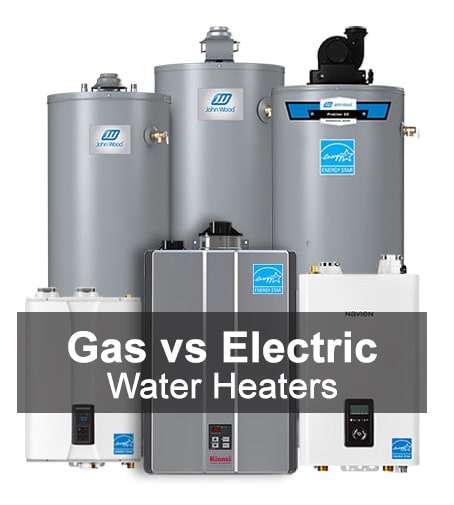 The Difference
Understanding how these two systems operate will give you a better understanding between gas vs electric water heaters. An electric water heater contains a tank that heats water with high-voltage electric heating rods which run vertically through the water tank. Gas water heaters heat water through the gas-fired burner located at the bottom of the tank. Electric water heaters are simpler to operate because they operate on just electric power.
Installation Process
Electric water heaters are easier to install because all homes are connected to electricity, but not all homes have gas. A plumber can connect your home to your area's natural gas connection if you don't have a connection, but this procedure can be expensive. No matter which water heater fuel type you choose, both water heater types should be installed by a licensed and trained technician to ensure proper installation.
Cost
Electric water heaters are cheaper to purchase but they have a higher operating cost than natural gas water heaters. Natural gas is cheaper than electricity in most areas, so gas water heaters are cheaper to operate.
Efficiency
Electric water heaters heat water slower and more expensively, but they do it more efficiently than natural gas water heaters. This is because the heating rods used in electric water heaters are submerged in the water which allows for very little heat loss. Gas water heaters are less efficient because much of their heat is wasted through the vent at the top of the unit. This vent is necessary for removing toxic gasses.
Environmental Effect
Electric water heaters are better for the environment because they can be powered by a renewable energy source and are more energy efficient in their operation. Gas water heaters use natural gas as a power source which is a nonrenewable resource harvested from the earth in a wasteful process and emits harmful greenhouse gasses into the environment.
If you are still unsure if a gas vs electric water heater is best for your home or have any other HVAC related concerns, don't hesitate to contact us at any time. Our team of trained HVAC professionals are ready to help you find the best water heater for your home and can assist you with any questions you may have related to your water heater needs. DeMark Home Ontario is here to make upgrading to a new water heater as easy and convenient as possible. We offer a free installation done by our highly trained and experienced technicians. We have the lowest rental rates on the market for top-of-the-line equipment with professional and reliable service. Give us a call at 1 (855) 998-2998 or fill out our online request form and we will be happy to assist you.