GSW Hot Water Heaters
GSW hot water heaters are built to be energy efficient, safe, and always reliable.
Across the country, GSW hot water heaters have a great reputation for their excellent value which is how they've gained their tremendous loyalty and trust from their Canadian users. They design their product with the intention of creating the safest and most dependable energy efficient water heaters. So if you're looking to change your home's water heater, look no further than at the amazing product created by GSW.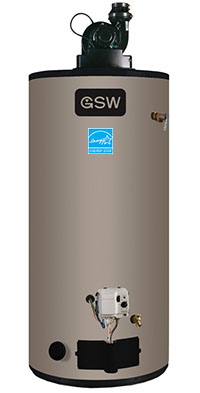 If you're looking for an environmentally friendly water heater, even GSW's entry level models are being recognized for their energy savings by Natural Resources Canada. In the current expanding market for water heaters, GSW stays ahead of the curve by using the latest innovative technology to create an outstanding product made with the homeowners need for safety in mind. GSW hot water heaters include award winning designs such as Flame Safe and to Guard technology which prevents flammable vapour ignition.
Here at DeMark Home Ontario our dear customers are our priority, which is why we choose to supply our customers with the best technology from GSW hot water heaters. No matter if your budget or lifestyle needs an electric, gas, or tankless water heater, DeMark is here to help.
DeMark Home Ontario offers Ontario's most affordable, worry-free rental program. We pride ourselves on delivering excellent service with top of the line equipment to our customers. With our 24/7/365 maintenance program you are getting lifetime repairs and service on all parts and labour and remain protected and worry free from any unexpected costs. By renting through DeMark you never have to worry about breakdowns, costs and replacements for your water heater.
DeMark Home Ontario makes renting a water heater simple. You do not have to pay a single cent up-front when you rent, there is no installation free, and your single monthly payment includes everything. You can save up to 30% on energy with your brand new high efficiency water heater, and the sooner you upgrade the sooner you can save.
If you aren't convinced already, here's a list of the perks that come with DeMark Home Ontario's water heater rental program:
• 2 Months free rent
• Reduced rental rates
• Free installation and removal of your existing tank
• No up-front equipment cost
• No hidden charges
• Free upgrade your venting pipes at no extra cost in order to bring you up to current TSSA code
• Free maintenance program 24/7/365
• Free lifetime service and repairs on all parts
• New Energy Saving water heaters
• Quicker heating time and increased water output
• Transferrable to the next owner should you sell your home
• You will not be receiving any extra bills. Rental water heater charges will appear in the 'Other Companies' section of your Enbridge Gas Distribution Bill.
Our services are guaranteed. Enjoy peace of mind and the best Ontario heating and cooling service.
Contact DeMark Home Ontario For a FREE Quote Today!
We will be happy to assist you with any questions or enquires regarding your water heater needs. Our team of dedicated and experienced professionals aim to provide homeowners with fast and reliable response and water heating solutions.
If you are looking to replace your old water tank to energy efficient model call DeMark Home Ontario -heating, cooling and hot water heating expert for more detail on specifications and water heater installation. Call today at 647-847-2998 or submit your request online.
Easy Rentals...
get total piece of mind with our High Efficiency Furnace and Air Conditioner
Rental Program
.