Hot Water Heater Issue
Almost any hot water heater issue is easy to spot and you can even likely resolve it on your own by using the following tips.
Whether you're running out of hot water quickly, only getting lukewarm water, are seeing puddles near your water heater, or any other water heater issue  — we're here to help you fix the problem.
Try the tips listed below to resolve the water heater problem you're experiencing:
Not Getting Enough Hot Water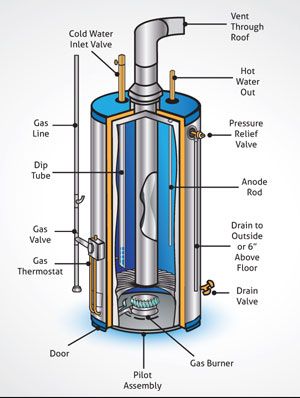 Not getting enough hot water could be the result of having an undersized tank. Perhaps your water heater used to fulfill your hot water consumption needs, but no longer does as you've increased your need for hot water after a home improvement project. A new, larger water tank would be necessary in this scenario. When choosing a new water heater, an option you should definitely consider is a tankless model as they provide an endless supply of hot water.
If you haven't increased your hot water consumption, but are no longer getting as much hot water as before, check the dial on the water heater.
When outdoor temperatures drop drastically, your water heater must work much harder to heat the incoming water. Water will also cool more when it travels through uninsulated places. Adding insulation to exposed hot pipes will lessen the effect of outdoor temperatures on your home's hot water. You can also adjust the water heater dial to a warmer temperature when it gets colder outdoors.
No Hot Water or Extremely Hot Water
The water heater issue most frequently experienced by homeowners is not getting any hot water at all. The first step to take in this situation is to make sure the water heater is turned on. If you own an electrical water heater then make sure that the electrical outlet it's plugged into is live.
If the water coming from your water heater is too hot then you should try adjusting the water heater to a lower temperature setting and seeing if that solves the problem. It may take some time for the water heater to adjust to the change in temperature. It's important to keep the temperature in the medium range between 46-50 degrees celsius as water at a lower temperature could breed
legionella bacteria.
If you are hearing boiling sounds inside the water heater or have scalding hot water coming out from the faucet then the issue is that the water heater isn't turning off at the set temperature.
Flush the Water Tank to Improve Efficiency
Mineral deposits that collect at the bottom of the water tank can greatly reduce your water heater's efficiency. Draining the tank by emptying it using a hose will remove much of the build up and get your heater working much better than before.
Puddles Around the Water Heater
If there's any water on the floor around the water tank then that means that either the drain valve hasn't been closed completely or that there is a leak in the water lines.
Cracked Plastic Dip Tube
The dip tube is made out of plastic and its purpose is to direct cold water to the bottom of the tank. When it's broken or cracked, cold water pours into the top of the tank and mixes in with the hot water that's about to enter the water pipes. A cracked dip tube should be replaced by a professional HVAC technician.
Testing the Temperature-Pressure Relief Valve
This water heater component keeps pressure at a manageable level. Testing the temperature-pressure relief valve is done by lowering or lifting its handle. Water should drain from the overflow pipe, if not, the valve needs to be replaced.
Water Smells Like Rotten Eggs
A rotten egg odour coming from the water could be a sign of a bacterial infection inside the tank. The anode rod within the tank emits hydrogen gas, which bacteria tend to feed on. A professional HVAC technician should be consulted to resolve this water heater issue.
Rusty Water
Rusty water exiting your faucet or shower means that you have a bad anode rod. Once a bad anode rod is replaced, there should be no more rust in your water.
Water Tank Leakage
Hot water tank leakage indicates a problem to do with the temperature and pressure of the water. Perhaps there may also be a hole in the tank due to rust which causes the water to pool at the bottom of the unit. This issue should be examined by a professional HVAC technician.
Loud Noises Coming from the Water Tank
Sediment buildup in the tank often results in some odd noises being created. You may hear either popping sounds or the sound of water boiling when there is an excessive buildup of residue in the tank. A professional HVAC technician should be contacted to fix this issue.
If your water heater is not working as well as it used to, is showing many signs of age, or has completely broken down, then you may want to consider replacing it with a brand new high efficiency unit that will fulfill all your needs.
If you have any further questions regarding a water heater issue or any of your other HVAC concerns, don't hesitate to contact DeMark Home Ontario today. We offer a free installation done by our highly trained and experienced technicians. You're saving more when you rent your water heater from DeMark Home Ontario. We offer the lowest rental rates on the market and provide our customers with professional and reliable service. If you're considering an upgrade to a new high efficiency water heater for your home, DeMark Home Ontario is here to make the change as easy and convenient as possible. For more information, give us a call at  1 (855) 998-2998 or fill out our online request form and we will be happy to assist you.