How Old is my Mid-Efficiency Furnace?
The age of your old mid-efficiency furnace is important information when budgeting for maintenance costs or knowing when to replace the system.
If you moved into a home and inherited its old HVAC system, there's a good chance you don't know the age of the system. Maybe you're not sure of the furnace type either. We are here to help you with some tips to identify your mid-efficiency furnace and know its age. Once you know what kind of system you have and its age it will be much easier to prepare a maintenance plan and know when it's time for replacement.
Check the labels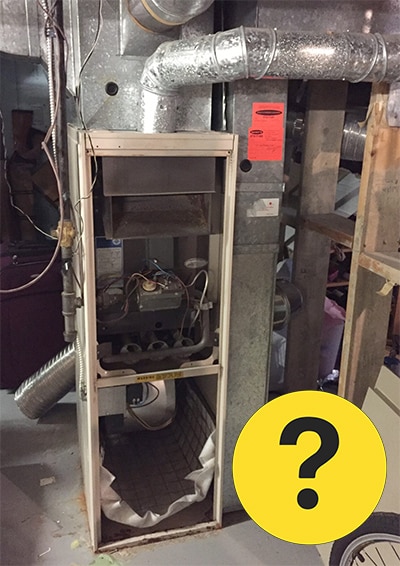 If your mid-efficiency furnace was made relatively recently it will have a label that indicates its specifications and identifying information including its age. However, if it's an older unit it will take some additional searching to find the info you're looking for.
Before looking for the label make sure to turn off your furnace. You can flip the circuit breaker on your electrical panel to be sure that it's off. Once this is done you can begin searching the exterior for any labels.
If it's not on the outside, labels can often be found on the interior panels of the furnace. To access interior panels, open the removable door and take a look inside. The label will have a serial number which can be used to identify the manufacturing date.
Older furnaces could be hiding the serial number in odd places inside the unit. It could be imprinted right on one of the furnace components. With the furnace turned off, check the gas valve, blower motor, fan blades, and other interior components of the unit for the serial number.
Other documentation
If the previous homeowner left the furnace manual behind, it would be useful for identifying the age of your mid-efficiency furnace.
If you haven't been lucky enough to find the manual laying around then you can check for a service tag. A service tag will be placed by the HVAC company that installed or serviced the unit. It won't tell you the manufacturing date but will provide you with either the date it was installed or when the last service appointment was.
Identifying the manufacturing date
Once you've found the serial number, you'll be able to identify the manufacturing date with just a little research. A search on the manufacturer's website should lead you to find the manufacturing date of your unit. If you're struggling to find this info, feel free to give us a call and one of our trained HVAC professionals will be happy to assist you.
Call for a professional furnace inspection
The average furnace has a lifespan of 15 years before a replacement is necessary. When furnaces come closer to the end of their life, they require frequent repairs that are costly and inconvenient. However, if a furnace is well maintained its lifespan can be extended by several years.
If you have an old mid-efficiency furnace, it's in your best interest to have your furnace inspected and tuned up by a technician. A professional furnace inspection will ensure that your equipment is running safely, smoothly, and with efficiency. A professional HVAC technician can make suggestions for repairs and give you an idea of how much it would cost to replace your old furnace.
We hope that with our help you've been able to identify the age of your mid-efficiency furnace. If you have any further questions regarding your furnace or have any other HVAC related concerns, don't hesitate to contact us at any time. Our highly trained and experienced technicians are more than prepared to assist you with any of your HVAC problems. We provide efficient and quick furnace replacement done by our team of licensed and trained HVAC professionals. We have a variety of furnace rental, purchasing, and financing options to fit your needs and budget. Give us a call at 1-855-998-2998 or fill out our online request form and we will be happy to assist you with your request.
Easy Rentals...
get total piece of mind with our High Efficiency Furnace and Air Conditioner
Rental Program
.