How To Read Water Heater Serial Number
How old is my water heater ? How to read Water Heater Serial Number ?
Are you tired running out of hot water?
Paying high energy bills?
Looking to do a conversion from electric hot water heater to gas water heater?
How do I know the age of my water heater? You can determine how old your residential water heater is by looking at and decoding data on the water heater label.
The chart below is intended to assist you in identifying the year and month in which your water heater was manufactured (Water Heater Serial Number )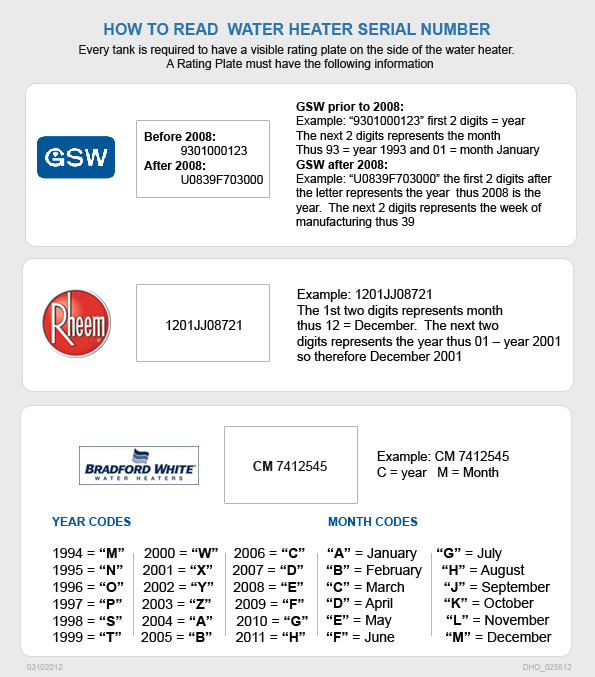 If you need to upgrade your old rental or owned hot water heater in Toronto and GTA to an energy efficient unit please contact us by phone or online and receive :
2 MONTHS FREE rent (Enbridge Gas Distribution Bill)
Energy Star Certified
FREE installation and removal of your existing tank
NO up-front equipment cost
NO hidden charges
FREE upgrade your venting pipes at NO EXTRA COST in order to bring you up to current TSSA code
FREE maintenance program 24/7/365
FREE lifetime service and repairs on all parts
NEW Energy Savings water heaters
QUICKER HEATING TIME and INCREASED WATER OUTPUT
TRANSFERABLE to the next owner should you sell your home
You will not be receiving any extra bills.
Contact DeMark Home Ontario For a FREE Quote Today!
We will be happy to assist you with any questions or enquires regarding your water heater needs. Our team of dedicated and experienced professionals aim to provide homeowners with fast and reliable response and water heating solutions.
If you are looking to replace your old water tank to energy efficient model call DeMark Home Ontario -heating, cooling and hot water heating expert for more detail on specifications and water heater installation.
Call today at 647-847-2998 or submit your request online.