If My Home Furnace Is 20-Years-Old, Should I Replace It?
Don't wait until it's too late to replace your home furnace, upgrading to new equipment will improve your home comfort and could save you money in the long term.
A furnace can last you decades if properly maintained. Although, in any case, if your home furnace is over 20 years old it's probably in your best interest to think about a replacement. This is because once furnaces are over 15 years of age they often start to cause frequent problems and require repairs which add up over time. There are a number of benefits to being proactive about replacing your home's old furnace which we will cover in this article.
Why should I replace my old furnace?
It's generally agreed upon that the average life expectancy of a furnace is between 16 to 20 years. As furnaces age they experience wear and tear which often leads to necessary repairs in the future. The longer the equipment has been in operation, the more likely that it is in need of repair. Furnaces become less efficient over time and end up operating at a reduced efficiency level by the end of their life.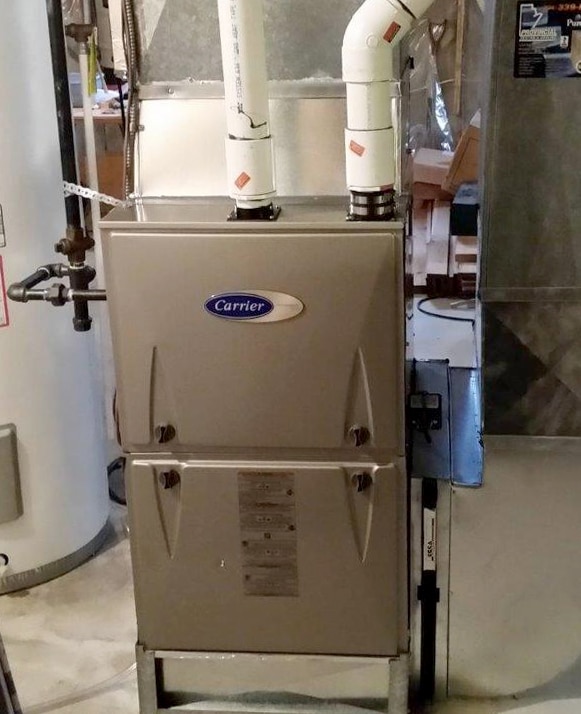 We recommend that you replace your home furnace before it reaches this stage for a number of reasons which you can read below:
Avoid Unexpected Repair Costs
The older a furnace is, the higher the chance of it experiencing a breakdown. These breakdowns are most likely to occur on those particularly cold winter nights when your furnace has to work extra hard to warm your home. A cold winter night is also exactly when you need your furnace most.
Experiencing a furnace breakdown in the middle of the night would put you in an uncomfortable situation with the unexpected repair or replacement costs that come with it. Being proactive and planning your furnace replacement before the equipment gives out will allow you to take your time and make the best choices for your home. If you're looking for a consultation regarding replacing your old furnace don't hesitate to give an HVAC professional a call.
Save on Monthly Utility Bills
It's an indisputable fact that old furnaces do not operate nearly as efficiently as newer models. If your home furnace is close to or more than 20 years old then it will require significantly more energy to deliver the same amount of heat to your home.
This means that your utility bills will see a spike as a result. After upgrading to a new home furnace you will see your monthly heating costs decrease as the new equipment operates at a higher efficiency level. New furnaces are able to keep you warm and comfy at home without wasting much energy, unlike older models. Not to mention that the improved efficiency levels will also decrease your home's carbon footprint.
Improved Air Quality
Old furnaces don't do as great of a job at filtering the air in your home as new furnaces do. Old furnaces often collect and circulate airborne contaminants throughout your home which pollutes the air you breathe.
Also, malfunctioning furnaces can increase the air moisture levels in your home. As you may know, high moisture levels can lead to mould contamination as mould thrives in moist environments. Mould growth and airborne pollutants will worsen your home's air quality and could aggravate existing medical conditions.
After switching to a new high efficiency furnace, you will instantly feel an improvement in the air quality in your home.
Keep Your Family Safe
A common problem with old furnaces is a cracked heat exchanger. A cracked heat exchanger can be extremely dangerous as it can allow for carbon monoxide gas to enter your home. Carbon monoxide is odorless and colourless which often leaves it going undetected, but a carbon monoxide leak can be a fatal threat to your family.
Upgrading to new equipment will make your home safer and will provide you with the peace of mind you need for a good night's rest. It's never worth the risk when your family's health is at stake.
Replacing Your Old Furnace
When you've decided it's time to get rid of your furnace and replace it for a new high efficiency model, you can contact a trusted HVAC company for advice regarding the replacement. A furnace installation should only be performed by a trained HVAC technician as the process is complex and an improper installation can lead to a dangerous outcome.
Contacting a trusted HVAC company will give you access to expert advice to make sure that you find the furnace that fits your needs and budget. Having the help of an expert will allow you to make an informed choice for a product that will keep you and your family comfortable for years to come. Picking a new furnace is an important choice so make the right decision by giving an expert a call.
Our team of highly trained and experienced HVAC professionals at DeMark Home Ontario are more than prepared to assist you with any and all of your HVAC needs. If you're looking to replace your home furnace or have any other HVAC related concerns, don't hesitate to contact us at any time.
We provide efficient and quick furnace replacement done by our team of licensed and trained HVAC professionals. We have options available for furnace rental, purchasing, and financing that are tailored to fit your needs and budget. Give us a call at 1-855-998-2998 or fill out our online request form and we will be happy to assist you with your request.
Easy Rentals...
get total piece of mind with our High Efficiency Furnace and Air Conditioner
Rental Program
.