Our Helpful Guide to Flushing Your Water Heater
Flushing your water heater regularly can prolong its lifespan and maintain its efficiency level for years to come.
When you purchase a water heater or any major appliance for your home, you purchase it with the intent to use it for many years. The lifespan of your water heater largely depends on how it was installed and how well it was maintained. It's entirely common and normal for you as a homeowner to not know everything about water heater maintenance when purchasing new equipment. That's why we're here to help. Flushing your water heater can improve your home's water quality and the equipment's efficiency. Now let's learn how you can do it yourself in 10 simple steps.
Not every water heater needs to be drained!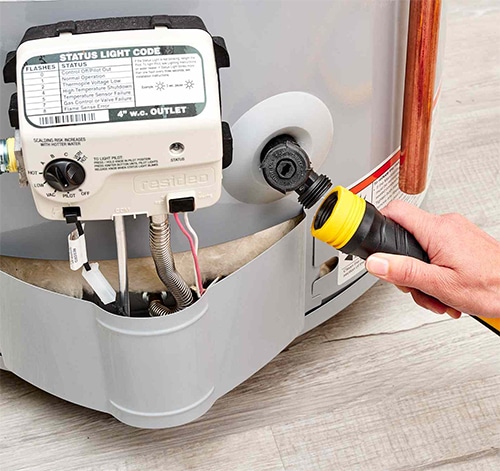 Flushing your water heater is unnecessary if your unit is electric and your home's water supply comes from a municipal water system with good quality water. New electric water heaters don't require flushing and there's no indication that flushing these systems would increase their lifespan.
On the other hand, if your water heater is connected to a water well with hard water that is high in iron or calcium then regular flushing is beneficial to the equipment.
Why flush your water heater?
Deposits of iron, sulphur, calcium, and other contaminants will damage the inside of your water heater as well as the water pipes. These deposits will ruin your equipment making its operation less efficient and contaminate the water used in your home. That's why flushing your water heater is important if you experience poor water quality in your home.
How often should you flush your water heater?
If your water quality is poor and calls for regular flushing, it's important that you keep up with regular flushing from the installation date. Depending on the quality of your home's water, flushing is recommended every 1 to 3 years.
Keeping up with regular flushing from the installation date is important because flushing the water heater after years without previous maintenance can cause damage to the unit. Without regular maintenance, there can be heavy sediment buildup inside the tank which will loosen during the flushing process and cause corrosion to the inside of the tank. Flushing your tank after years without maintenance can cause the tank to rust prematurely.
Propane and natural gas water heaters require flushing on an annual basis. If you own a propane or natural gas water heater, we suggest you call a professional technician to do the job as the process is more complicated than with an electric unit.
Flushing your electric water heater in 11 steps
Remember that flushing your water heater should only be done if it's necessary. You should only drain your electric water heater under specific circumstances when it's needed. In certain situations, flushing your water heater can cause bacterial growth within the tank or cause the inside of your tank to prematurely rust. If you are unsure if it's necessary or are concerned about the safety of draining your water heater, call a professional HVAC technician for assistance.
If you believe it's necessary to flush your water heater and wish to do it yourself, here are 11 steps that you can follow to perform the procedure safely:
Before you begin, use as much hot water as you can (shower, bath, sink, etc.) before draining the water heater so that the tank is partially empty.
Turn off the water heater's power supply by switching the circuit breaker to "OFF".
Turn off the water heater's cold water supply valve located at the top of the unit.
Turn on the hot water tap in a sink or tub and leave it on for the entire flushing procedure. This will prevent a vacuum from forming in your water lines while you're flushing the water heater. It will also allow you to test the water when you turn the unit back on during the last steps of this procedure.
This step is for people who don't have a floor drain near the bottom of their water heater. If this is the case, connect one end of a garden hose to the drain valve and direct the other end to a drain, a bucket, or outside.
Turn on the drain valve slowly to avoid scaling and allow the tank to fully empty itself.
Turn on the cold water supply valve and allow it to run for a few minutes until the water coming out is completely clear and free of sediment.
Once the water coming out is completely clear you can turn off the drain valve.
Allow your water tank to fill up completely. Keep an eye on the tap you turned on in step 4 and you'll know that the tank is full when the water runs normally without any air coming from the tap.
Shut off the tap.
Turn on your water heater's power supply.
Regular water heater maintenance is important for keeping the equipment running smoothly for years in the future. Maintaining your HVAC appliances is an investment in your future comfort at home. As HVAC professionals, we're happy to help you learn more about water heater maintenance to prolong the life of your equipment. We hope that this guide helps you to flush your water heater safely and improve the water quality in your home.
If you have any more questions about flushing your water heater or any of your other HVAC concerns, don't hesitate to contact us today. Our team of trained HVAC professionals are ready to assist you with any questions you may have related to your water heater needs. DeMark Home Ontario is here to make upgrading to a new water heater as easy and convenient as possible. We offer a free installation done by our highly trained and experienced technicians. Our customers enjoy the lowest rental rates on the market for top-of-the-line equipment with professional and reliable service. Give us a call at 1 (855) 998-2998 or fill out our online request form and we will be happy to assist you.