Single Stage or Two Stage Air Conditioner
When choosing an air conditioner customers are often conflicted between choosing a single-stage or a two stage air conditioner, we can help you make the right choice.
The Differences
What separates a single-stage air conditioner from a 2 stage is the type of compressor that the air conditioner uses.
Single-stage air conditioners use compressors that only have one level of operation which always cools your home at full power.
A two stage air conditioner uses a compressor which has two levels of operation. This type of air conditioner uses a low level of operation on days that are only mildly warm as your home doesn't need to be cooled as much on these days. On hotter summer days it uses a high level of operation, like the one used by a single-stage air conditioner. A 2 stage AC will only use the high level of operation when it is too hot outside and it's necessary to cool your home at a high level to keep you and your family comfortable.
The Benefits of a Two Stage Air Conditioner
Having a two stage AC guarantees two benefits, which are greater comfortability and greater energy efficiency.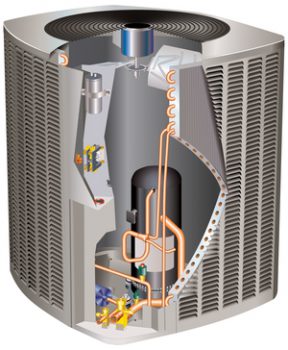 A 2 stage air conditioner is more energy efficient than a single stage air conditioner because it turns on and off less often. A lot of energy is needed to power up an air conditioner, so by powering up less you will be saving both energy and money. A single-stage air conditioner uses more power as it only cools at one speed and turns of as soon as that temperature is reached. On the other hand, a two stage will run more often and meet your desired temperature roughly 80 percent of the time, thus having fewer power ups and power downs.
A two stage air conditioner provides greater comfortability for this same reason. This type of air conditioner evenly cools your home and removes twice the moisture of its single-stage counterpart. By upgrading to a new two stage AC you will certainly notice a change in your home's comfortability.
The Price Difference
A two stage air conditioner is more expensive than a single-stage air conditioner, but the cost difference between the two varies. The price depends on various factors, such as the SEER rating of the air conditioner. If you would like to know the exact cost of a single-stage or 2 stage that is right for your home, contact us via the request form on our website or by giving us a call at  (647) 847-2998.
Which One is Right For You?
The type of air conditioner that is right for your home depends on where you live and your budget. For areas with high humidity we recommend a two stage. Since a 2 stage air conditioner is more expensive, if you are working with a tight budget a single-stage air conditioner might be the choice for you. Even for those with a low budget DeMark Home Ontario offers air conditioner rental, financing, and purchasing plans, so we should have a plan that fits both your needs and your budget.
If you have any further questions regarding single-stage air conditioners,  two stage AC or any of your other HVAC needs, please don't hesitate to contact DeMark Home Ontario.
If you're experiencing problems with your home's existing cooling system and are looking for a replacement, we offer a variety of air conditioner rental, purchasing, and financing plans. Our highly trained and experienced technicians are more than prepared to assist you with any of your air conditioner problems.
We provide efficient and quick air conditioner replacement done by our team of HVAC professionals. Give us a call at 647-847-2998 or fill out our online request form and we will be happy to assist you with your request.
Easy Rentals...
get total piece of mind with our High Efficiency Furnace and Air Conditioner
Rental Program
.