What is a Blower Motor / Blower Fan?
The blower motor in your HVAC system is the powered machine that makes hot or cool air flow throughout your home.
If you're doing research online about troubleshooting an HVAC issue or are looking to upgrade your heating and cooling system, you will find that these complex machines have a lot of components working to keep you comfortable at home. As a homeowner it's not necessary to know the inner workings of each and every moving part, but we'll focus on giving you an understanding of one of the most important components of your HVAC system, the blower motor. The blower motor is the power behind your HVAC system as it blows hot or cool air throughout your home with the rotational movement of its blades.
What does the Blower Motor do?
The HVAC blower motor is responsible for turning on the system's fan and circulating hot or cool air throughout your home. Blower fan are a component of all air heating and cooling systems you will find in homes such as air conditioners, furnaces, heat pumps, and mini split systems.
The blower fan is signaled to turn on any time your thermostat indicates that your home's temperature needs adjustment.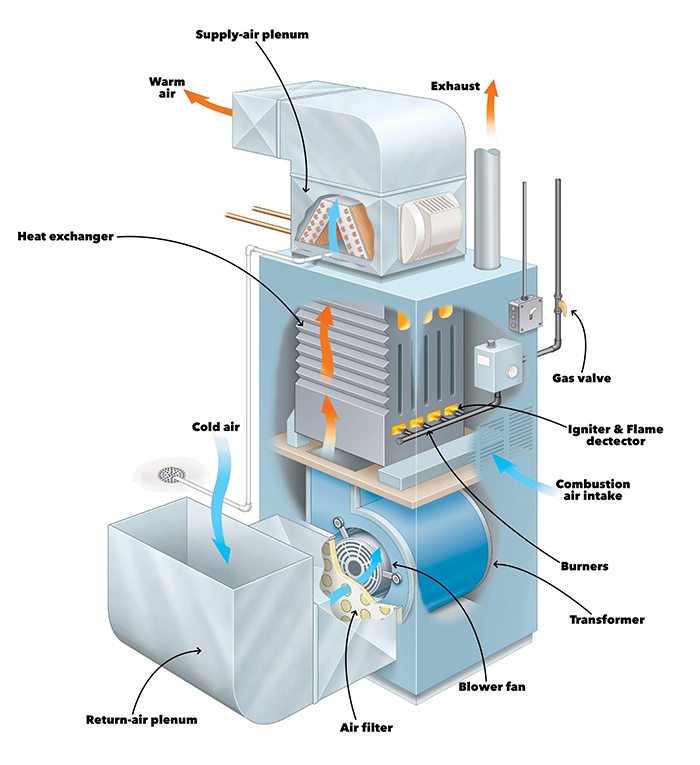 Where is the Blower Motor in my HVAC System?
The blower motor's location can vary depending on the type of system and model of the unit. Most furnaces have a blower fan that is located in a box at the base of the unit next to the air filter. Most air conditioners and heat pumps have their blower fan located inside the air handler. Some systems will share a blower motor between the air conditioner and furnace and it will be located inside the air handler. In a mini split system, each unit has its own blower fan that is most often located behind the air handler casing between the control panel and fan blades.
Two Types of HVAC Blower Motors
HVAC blower motors are typically classified under two types: single-speed and variable-speed. A single-speed blower motor operates at a single speed and turns off when the target temperature is reached. Variable-speed motors are constantly running at a range of lower speeds to maintain air circulation throughout your home. The amount of heating or cooling that is needed will determine the speed that the motor is running at. Variable-speed motors are able to keep your home at a more consistent temperature and are the most energy efficient.
Symptoms of a Faulty Blower Motor
If you've noticed that your home's heating and cooling system is not performing as it should be, there's a chance that a faulty blower motor is the issue at hand. A faulty blower motor is often indicated by the following signs:
● Little to no airflow from vents
● Increased energy bills for the same amount of heating and cooling
● Strange noises or smells coming from the HVAC system
● The HVAC unit is overheating
If you're encountering some of these symptoms then there is a good chance that your blower fan is in need of replacement. However, more than one problem can exist simultaneously and HVAC issues can be hard to diagnose without a professional. If you're experiencing problems with your home's heating and cooling system we advise you to contact a professional HVAC technician to evaluate your system and recommend a solution.
Causes of Blower Motor Failure
A blower motor can give out for many reasons, some within your control, others not so much. Some of the common reasons for blower motor failure include:
● Excess moisture
● Built up debris
● Resistor or fan issues
● Worn-out bearings
● Climate control switch issues
● Electrical issues
● Old age
Maintaining the Blower Motor
Without your blower motor in proper working order, your HVAC system will be unable to adequately heat or cool your home. Some of the reasons for blower fan failure, especially moisture and debris buildups, can be avoided with proper HVAC maintenance. Blower fan need to be maintained in order to run properly. Schedule an appointment with an HVAC service company to bring your system back to tip-top shape and ensure everything is working properly. A professional HVAC technician can evaluate the blower motor, clean the fan blades, check the wear on the motor belt, and ensure the motor is lubricated. A technician can also replace the blower fan entirely if need be.
If you're experiencing issues with your HVAC system's blower motor or have any other home heating and cooling concerns, don't hesitate to contact us today. Our team of certified and experienced HVAC professionals are more than prepared to help you find the solution to your home comfort needs. If you want to upgrade your home's heating and cooling system, we offer purchase, rental, and financing options for every budget and the top brands of furnaces, ACs, and water heaters on the market. Our quick and efficient HVAC replacement is done by our team of fully licensed and trained technicians. Give us a call at 1 (855) 998-2998 or fill out our online request form and we will be happy to assist you with your request.
Easy Rentals...
get total piece of mind with our High Efficiency Furnace and Air Conditioner
Rental Program
.