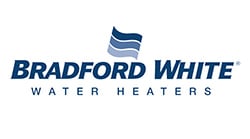 Bradford White Power Vent Water Heater 40 Gallon – RG1PV40S6N
Energy Saver Residential Water Heater
Model: RG1PV40S6N
Purchase
Price includes standard* installation
ENERGY STAR® Qualified - Some models
Bradford White ICON System®
Vitraglas® Lining
Non-CFC Foam Insulation
Hydrojet® Total Performance System
Low Restrictive Brass Drain Valve
Heat Traps
Rent to Own
No upfront charges & no hidden fees
FREE standard installation & old equipment removal
Don't pay until January 2024!
$100 Prepaid Mastercard
FREE lifetime maintenance and repairs on all parts and labour
24/ 7 Priority Service
Same Day and Next Day Service
Description
Key features
Features
Resources
Bradford White Power Vent Water Heater 40 Gallon RG1PV40S6N model, natural gas (NG), short-profile power vent residential water heater with 6-year warranty.
Features:
Defender FVIR system w/ ScreenLok flame arrestor prevents ignition of flammable vapors outside the water heater
Vitraglas enamel lining helps to extend tank life
Hydrojet sediment reducing device increases 1st hour delivery and minimizes temperature build-up in tank
Powerful & quiet blower motor (120V) with 10ft cord resists powerful outdoor winds and offers more installation flexibility
Horizontal and vertical venting with PVC, ABS or CPVC
Non-CFC foam covers the sides and top of the tank, reducing heat loss
Factory-installed heat traps reduce stand-by heat loss
Sight window allows to observe operation of pilot and burner
Protective magnesium anode rod
Bradford White Power Vent Water Heater 40 Gallon
Key features
Price includes standard* installation
ENERGY STAR® Qualified - Some models
Bradford White ICON System®
Powerful Blower Motor
Hydrojet® Total Performance System
Vitraglas® Lining
Non-CFC Foam Insulation
Low Restrictive Brass Drain Valve
Heat Traps
Bradford White Power Vent Water Heater 40 Gallon, Power Vent, 40000 BtuH Heating, Natural Gas, 1/2 Inch Gas Connection, 40 gal Tank, Spark to Pilot Ignition, 0.80 Recovery, 0.66 Energy Efficient, 3/4 Inch NPT Water Connection, 1600 deg F, Steel, Vitraglas, 57-5/16 Inch H x 20 Inch W x 27-7/8 Inch D, Includes: Temperature and Pressure Relief Valve Our power vent (TTW) models are power vented for positive exhaust. They offer greater installation flexibility with the ability to vent through a wall or roof, with either 2 Inch or 3 Inch PVC, ABS or CPVC pipe. They offer an increased amount of hot water available at a usable temperature in less time than normal.
Technical Specifications:
Fuel: Natural Gas (NG)
Nominal Capacity (Gallons): 40
Rated Storage Volume (Gallons): 38
Input (BTU): 40,000
Uniform Energy Factor: 0.63
Recovery Efficiency: 80%
1st Hour Rating (Gallons): 71
Recovery Rise @90° F (GPH): 43
NOx Emissions: less than 40ng/J
Water Connections: 3/4" NPT
Gas Connection: 1/2" NPT
Max Working Pressure: 150 PSI
Ignition Type: Electronic
R-Value: 8
Vent Type: Power
Vent Size: 2" or 3"
Vent Material: PVC, ABS, CPVC
Max Vent Run: 50ft (for 2"), 120ft (for 3")
LEED Rating: 1
Power Supply: 120V, 60Hz
Dimensions (Diameter x Height): 20" x 57-5/16"
Weight (lbs): 140
Warranty:
6-year limited tank warranties / 6-year limited warranty on components parts
Our Reviews and Testimonials
Excellent service and very prompt communication Highly recommend! They offer long warranty on installed water heater
Very pleased with the prompt, friendly, efficient service received. Our water tank was leaking had another company out twice, they said couldn't be done without additional cost and work. I sent few photos of tank to Demark , they cam and replaced tank the very next morning, technician was great too. thanks
Easy Rentals...
get total piece of mind with our High Efficiency Furnace and Air Conditioner
Rental Program
.