We clean your Air Duct System. Not Just the Ducts!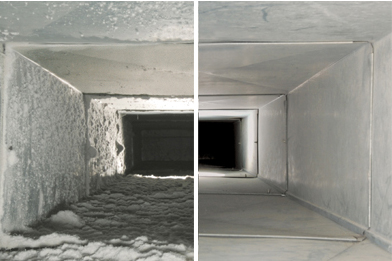 Our trained and certified professionals will conduct a systematic inspection of your residential ductwork and filters to establish the degree of services required by your system.
Did you realize that the air you breathe inside your home can be more seriously polluted than the air outside? Millions of microscopic contaminants enter your heating and cooling system every time it goes on. If these particles are not cleaned out, they can build up in your air ducts and get back into the air you breathe, irritating allergies, asthma, sinuses, and spreading cold- and flu-causing viruses. These particles can also pass through to your heating and cooling equipment, reducing effectiveness and causing costly repairs. We can help you remove these pollutants from your air.
By carrying out Duct Cleaning service you will ensure that you and your family are safe from any potential Allergens that often exist in the air-ducts of your property – it can be absolutely anything from dust, dump, animal fur or debris. Please don't forget to clean your ducts!
Our Full Package Duct Cleaning Services consists of 7 steps job:
Hook ups
Thorough inspection of air ducts
Vents cleaning
Cleaning of all registers and grilles
Furnace cleaning (bottom compartment)
AC Coil cleaning
Sanitizing
Receive 25% off your duct cleaning service with installation of Furnace and/ or Air Conditioner, contact us for more details.
A little fresh air on the inside will do you good. Our local pros can clear out years of accumulated dirt, dust, debris and other allergens. Our national network of professionally trained air duct cleaning technicians is right around the corner.
Duct Cleaning Health Benefits:
If you suffer from allergies, it could be related to your forced-air heater or air conditioning duct system. Just take a minute to remove one of your return grilles and look inside…
That simple dirt, dust, carpet fiber, or building material that you see may be contaminated with bacteria, fungus, mold, or dust mites. These pollutants are force-fed into your home every time the fan is activated, causing allergies, asthma and respiratory problems to flare.
Medical researchers have found that the debris in your ductwork can cause allergies, irritate your bronchial system, or lead to a number of other illnesses. Most people don't realize that the space occupied by the ductwork in their home is equivalent to a spare room — a room that has never been cleaned!
Most of the time this is from a phenomenon referred to as "Candle Sooting". When candles are burned repeatedly, the soot gets pulled into the cold air returns, moves through the filter, and blows out of the supply side of your HVAC system causing black stains on ceilings, walls, carpet, etc. The best alternative to prevent this is to use soy candles or candle warmers.
Service Area
DeMark Home Ontario servicing area for HVAC-furnaces, air conditioners, hot water heaters, tankless units includes: Toronto, GTA, Vaughan, Mississauga, Brampton, Markham, Scarborough, Milton, Burlington, Niagara Falls, Oshawa, Pickering, Ajax, Aurora, Newmarket, Barrie, Ottawa and more. For a full servicing area please click here.
Easy Rentals...
get total piece of mind with our High Efficiency Furnace and Air Conditioner
Rental Program
.