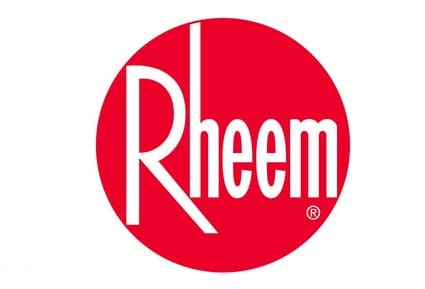 Rheem RA13 Air Conditioner 3 Ton
ENERGY STAR® Efficiency 13-15.5 SEER
Model: RHEERA1336A
Price includes standard* installation
New composite base pan – dampens sound, captures louver panels, eliminates corrosion and reduces number of fasteners needed
ENERGY STAR® Efficiency 13-15.5 SEER
Scroll compressor – uses 70% fewer moving parts for higher efficiency and increased reliability
Rust resistant screws – confirmed through 1500-hour salt spray testing
PlusOne™ Expanded Valve Space – 3"-4"-5" service valve space – provides a minimum working area of 27-square inches for easier access
Fan motor harness with extra long wires allows unit top to be removed without disconnecting fan wire
Description
Warranty Information
Resources
Accessories
With its sleek and aesthetics design the Rheem RA13 Air Conditioner 3 Ton has fantastic curb appeal.
Efficiencies 13-15.5 SEER
Scroll compressor
Composite base pan for quieter operation
Rheem RA13 Air Conditioner 3 Ton Features:
New composite base pan – dampens sound, captures louver panels, eliminates corrosion and reduces number of fasteners needed
Powder coat paint system – for a long lasting professional finish
Scroll compressor – uses 70% fewer moving parts for higher efficiency and increased reliability
Modern cabinet aesthetics – increased curb appeal with visually appealing design
Curved louver panels – provide ultimate coil protection, enhance cabinet strength, and increased cabinet rigidity
Optimized fan orifice – optimizes airflow and reduces unit sound
Rheem RA13 Air Conditioner Rust resistant screws – confirmed through 1500-hour salt spray testing
PlusOne™ Expanded Valve Space – 3″-4″-5″ service valve space – provides a minimum working area of 27-square inches for easier access
PlusOne™ Triple Service Access – 15″ wide, industry leading corner service access – makes repairs easier and faster. The two fastener removable corner allows optimal access to internal unit components. Individual louver panels come out once fastener is removed, for faster coil cleaning and easier cabinet reassembly
Diagnostic service window with two-fastener opening – provides access to the high and low pressure
External gauge port access – allows easy connection of "low-loss" gauge ports
Single-row condenser coil – makes unit lighter and allows thorough coil cleaning to maintain "out of the box" performance
35% fewer cabinet fasteners and fastener-free base – allow for faster access to internal components and hassle-free panel removal
Service trays – hold fasteners or caps during service calls
QR code – provides technical information on demand for faster service calls
Fan motor harness with extra long wires allows unit top to be removed without disconnecting fan wire
TEN (10) YEAR CONDITIONAL LIMITED PARTS WARRANTY FOR MODELS: RA13, RA14, RA16, (-)A17****N, RP14, RP15, (-)P16, R96T, R96P, R95T, R95P, R92T, R92P, R801S, R801P, R801T, R802P. A Ten (10) Year Conditional Limited Parts Warranty applies to the noted models only, if the following conditions are satisfied: a) unit is installed in a residential* application; is still owned by the original purchaser; in the original installation location; AND b) warranty is registered with the Manufacturer within 90 days of original installation or closing of the purchase of your residence. Product registration is available online at www.RegisterMyUnit.com. Please refer to the Limited Warranty Coverage and Exclusions on the reverse side of this warranty card for additional information. Look for specific details in the product description, check the Warranty Certificate
Financing Options
No matter your financial situation, we want to make sure you can keep your home comfortable. DeMark Home Ontario has partnered with leading financial institutions in the area to provide affordable financing options with low monthly payments.
Easy Rentals...
get total piece of mind with our High Efficiency Furnace and Air Conditioner
Rental Program
.