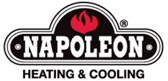 Napoleon 9600 Series Gas Furnace
Two-stage gas valve & variable-speed!
Model: 9600
The patented "SureView" window offers a unique view of the flame in operation
Napoleon® 9600 Series furnace is up to 96% AFUE.
The Napoleon® furnaces are the only gas furnaces designed and manufactured in Canada for North American winters
Multi‐position furnace adaptable to any configuration with no additional kits
For use with single or two stage thermostats
Description
Warranty Information
Resources
Accessories
Napoleon 9600 Series Gas Furnace features a two-stage gas valve and a variable-speed energy efficient ECM blower motor. Napoleon 9600 Series Gas Furnace two-stage furnace reduces temperature swings within your home, maintaining a more consistent, comfortable temperature. At up to 96% AFUE, the 9600 furnaces will operate on low fire for greater efficiency and comfort for most of the heating season. On colder days, when the first stage cannot satisfy the heating demand, the furnace will (automatically) switch to the second stage, producing more heat to satisfy demand. Ultimately this balancing of the heat production results in quieter operation cycles and less energy being consumed throughout the heating season. An added benefit is increased comfort due to better balanced temperatures in the home.
Corrosion Resistant Heavy Gauge Aluminized-Steel Tubular Triple-Pass Heat Exchanger
Controlled wrinkle-bend design of heat exchanger creates tubes with consistent thickness and no weak areas
Highly-efficient triple pass tubular design has a large surface area to maximize heat transfer
Each row of tubes is offset to increase turbulence in the airflow and maximize heat transfer
Stainless Steel Heat Recovery Coil
Extracts the remaining heat from the flue gases once they exit the triple-pass heat exchanger
Increases efficiency by evenly distributing the remaining heat to the coil's large fins
The Heat Exchanger is backed by our President's Limited Lifetime and Limited Replacement Guarantee* for your peace of mind
Aluminized Multi-Port in Shot Burners
Corrosion resistant burners on Napoleon 9600 Series Gas Furnace
Perfectly shapes the flame cone for maximum flame efficiency
10 year unit replacement heat exchanger limited warranty, lifetime heat exchanger limited warranty, and 10 year parts limited warranty.
Financing Options
No matter your financial situation, we want to make sure you can keep your home comfortable. DeMark Home Ontario has partnered with leading financial institutions in the area to provide affordable financing options with low monthly payments.
Easy Rentals...
get total piece of mind with our High Efficiency Furnace and Air Conditioner
Rental Program
.