Air Conditioner Financing
Hot summer days can be quite brutal if you're at home without an air conditioner to keep you cool. There's simply nothing quite like sleeping in a cool, comfortable home after a hot summer day. That's why investing in your home comfort is so important. You might think that getting a new air conditioner is a costly and time-consuming endeavor, but that doesn't have to be the case. Air conditioner financing allows you to get all the home comfort benefits of a brand new high efficiency AC and all it costs is one low and affordable monthly payment.
If you don't want to pay the often expensive cost of purchasing a new air conditioner upfront then financing the unit is a great alternative that you should consider. Financing plans can be tailored to your needs so that you can pay for the unit on a flexible schedule.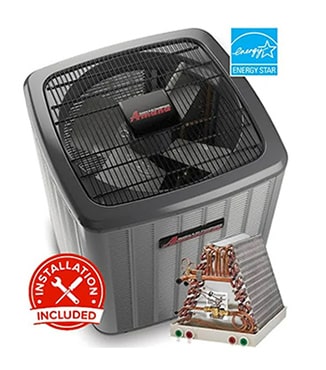 Air Conditioner Financing

Our goal is to provide you with home comfort solutions that are easy, seamless, and affordable so that you can have a new AC in your home without all the fuss and worry. Financing allows you to have flexible payment terms with low monthly payments. If financing sounds like an attractive option for you then don't hesitate to contact us for more information.
The benefits of air conditioner financing include:
• Zero upfront charges
• No hidden fees
• Flexible payments terms
• One low, affordable monthly payment
• Free installation & removal of old equipment
• Pay off the entire loan at any time without penalties
We also have rent to own options available for customers who want the benefits of a brand new air conditioner without the upfront cost.
Air Conditioner Rent to Own

Our air conditioner rent to own program is designed to be worry-free for homeowners as our rent to own customers don't ever have to deal with the costs associated with repairs, breakdowns, or replacement of your HVAC system. We only install trusted, reputable brands so our customers stay both comfortable and protected.

The rent to own program includes:
• Zero upfront charges & no hidden fees
• Free installation & old equipment removal
• ENERGY STAR Certified
• Free lifetime maintenance and repairs on all parts and labour
• Free equipment replacement if it cannot be repaired
• No extended warranties required
• 24/ 7 Priority Service
• And even more, you also have the option to transfer the rental if you decide to sell your house.
Call us now to get a 2 MINUTE QUOTE over the phone
If you have any questions regarding our air conditioner financing or rent to own options don't hesitate to contact us today. DeMark Home Ontario offers purchase, rental, and financing options for any budget and the best air conditioner brands on the market. Our quick and efficient air conditioner replacement is done by our team of fully licensed and trained HVAC technicians. Give us a call at 1 (855) 998-2998 or fill out our online request form and we will be happy to assist you with your request.
SAME DAY AND NEXT DAY SERVICE AND INSTALLATION AVAILABLE
Easy Rentals...
get total piece of mind with our High Efficiency Furnace and Air Conditioner
Rental Program
.