Hot Water Heater Types: Which Is Right For Your Home?
There's many different hot water heater types on the market, but which one is right for your home?
If you're in the market for a water heater upgrade, you might be intimidated by the amount of options that are available to you. And before you can even choose the brand and model of your new water heater, you will have to figure out which water heater type is right for your home. You can choose from gas, electric, tankless, and solar water heaters, but what exactly do these terms mean and what sets each type apart? Luckily, we're here to clear the confusion about hot water heater types and hopefully allow you to understand which type is best for your home.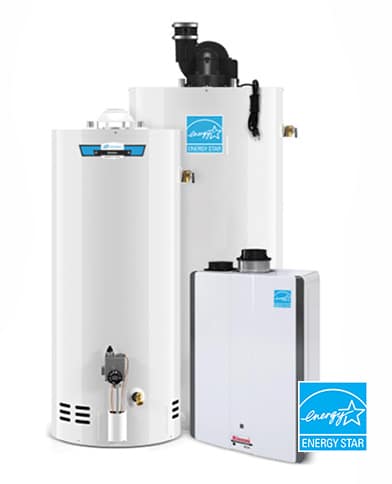 Gas and electric tanks are the most common types of water heaters you'll find in most people's homes. Standard gas and electric water heaters heat water that is then stored in the tank until it's needed by a faucet or shower in your home. The biggest advantage to standard tanks is that they're the most affordable option on the market.
Although, they also come with their downsides. Since these water heaters store hot water in their tank, the amount of hot water you have access to is limited to the capacity of the water heater's tank size. This means that you may run out of hot water during high-volume periods, like those weekday mornings when the whole family is getting ready for work or school at the same time. Standard water heaters typically last between 10-12 years and can become troublesome near the end of their lifetime.
Gas Water Heaters
In order to install a gas water heater in your home, a prerequisite is that your home must have a natural gas connection and a place to connect the water heater to the gas line. If your home is not connected to natural gas, you'll have to opt for an electric water heater
Gas water heaters are a bit more expensive to purchase than electric models, but they are also more energy efficient and will thus save you money in the long term by saving you money on your monthly utility bill. If your home is connected to natural gas, we recommend that you go for a gas water heater.
Electric Water Heaters
Electric water heaters are the tank of choice for many people who don't have a natural gas connection in their home. These tanks use more energy than their gas counterparts, but are also the least expensive option.
A downside of electric water heaters to consider is that when you experience a power outage in your home, you will not only have no use of your electronics, but you will also not have hot water.
Tankless Water Heaters
Tankless water heater systems don't have a tank like a standard water heater. Instead of storing hot water, these units heat water as it passes through the system.
This comes with many advantages for the tankless water heater system. Most importantly, tankless units allow you to have an unlimited supply of hot water in your home. Tankless units are also much more efficienct than standard water heaters. In fact, tankless water heaters can be up to 34% more efficient than regular water heaters. Because they don't have a tank, tankless units can be very compact allowing you to save space in your home. Tankless water heaters can be the size of a suitcase and can be hung on the wall to conserve floor space. Finally, tankless units also have the longest lifespan. These units can last 15-20 years, meaning you can get up to two decades of use out of your investment.
Tankless units do come with some pitfalls. The most obvious one being the cost. Tankless units are the most expensive out of the hot water heater types, but as previously stated, they are also the most energy efficient. The energy savings accrued over its 20 years of use can offset the price difference between a tankless and standard water heater unit. Another downside is that the amount of hot water supplied cannot exceed the maximum capacity that can be pushed through the system. Running all your appliances, faucets, and showers simultaneously will likely exceed the capacity of the tankless water heater.
Less Common Hot Water Heater Types
Gas, electric, and tankless units are the most common types found in Canadian homes, but less common types like the heat pump, solar-powered water heater, tankless coil and indirect water heaters are also options that are available to homeowners. For more information on these hot water heater types, check out these guides provided by the U.S. Department of Energy and Consumer Reports.
If you're still uncertain about what hot water heater type is right for your home, we recommend you give our team a call today. Our team of trained HVAC professionals are ready to assist you with any questions you may have related to your water heater needs.
DeMark Home Ontario is here to make upgrading to a new water heater as easy and convenient as possible. We offer a free installation done by our highly trained and experienced technicians. You're saving more when you rent your water heater from DeMark Home Ontario. We offer the lowest rental rates on the market and provide our customers with professional and reliable service.
Give us a call at  1 (855) 998-2998 or fill out our online request form and we will be happy to assist you.