How to Resolve an Enbridge Gas Warning Tag or Red Tag
An Enbridge Gas Warning Tag or Red Tag on your furnace or water heater means that a licensed gas technician considered the equipment to be unsafe to operate.
The most common reasons that equipment receives an Enbridge Gas Warning Tag or Red Tag is because of improper installation or venting related issues that put you at risk of a carbon monoxide leak, which is dangerous and could potentially be life threatening.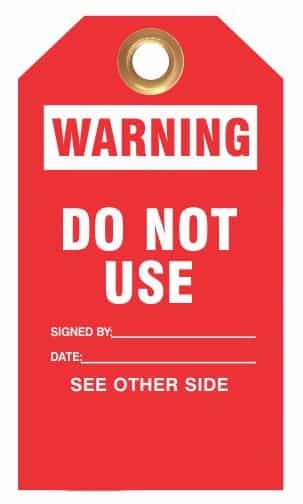 Licensed and TSSA certified gas technicians are required by law to tag any gas-powered equipment which is deemed dangerous to operate. If a technician fails to Warning Tag or Red Tag a piece of hazardous equipment they risk receiving serious fines, imprisonment, and losing their license. So, if your gas equipment has received an Enbridge Warning Tag or Red Tag, don't think that the technician is out to get you, they are simply doing their job and what is required of them by law.
The Difference Between a Red Tag (Type A) and a Warning Tag (Type B)
An Enbridge Red Tag (Type A) means that the gas technician considered your equipment too dangerous to operate and necessitates that the equipment is shut down immediately to ensure the safety of you and your family. When a Red Tag is given, it requires that the gas to that appliance is shut off and cannot be turned back on until the problem has been resolved.
An Enbridge Gas Warning Tag (Type B) means that your gas equipment is unsafe due to a code violation, which often has to do with improper installation or a ventilation issue. In the case of a Warning Tag, your gas is not turned off and you have a period of up to 45 days to have the issue resolved before your gas will be shut off. It is important to note that TSSA codes change over time so an equipment installation may have been up to code when it was installed 10+ years ago but is no longer up to the standard of updated TSSA codes today.
If you receive a Warning Tag for your gas equipment not being up to code, it is best to not wait until the last minute to have the issue resolved because in some cases additional time will be required to source parts or materials for the repair. If you do not resolve the issue within the warning period that is given, Enbridge will shut off the gas to your home for failure to comply with their requirements.
How to Resolve an Enbridge Gas Warning Tag or Red Tag
If you have had a Warning Tag or Red Tag placed on your gas equipment, the first thing you should do is seek out a licensed gas fitter. A licensed gas fitter can evaluate the problem, provide you with a quote for the repair, and if you agree to the quote then they can start the repair process to bring your equipment back to safe operating condition.
Once the issue has been resolved, the Warning Tag or Red Tag can be removed and the technician will notify Enbridge Gas that the equipment has been updated to safe operating condition which will prompt Enbridge to allow for the gas to be turned back on if it had been turned off prior.
We know that receiving a Warning Tag or Red Tag on your furnace or water heater can put you in a stressful situation. We hope that this article has been of use to your situation and has given you some direction on how to proceed to get that Warning Tag or Red Tag removed from your equipment.
Don't hesitate to contact us at any time if you have any further questions regarding an Enbridge Warning Tag or Red Tag or have any other HVAC related concerns. Our team of highly trained and experienced HVAC professionals at DeMark Home Ontario are more than prepared to assist you with all of your HVAC needs. We provide efficient and quick furnace and water heater replacement done by our team of licensed and trained HVAC professionals. We have options available for furnace and water heater rental, purchasing, and financing that are tailored to fit your needs and budget.
Give us a call at 1-855-998-2998 or fill out our online request form and we will be happy to assist you with your request.
Easy Rentals...
get total piece of mind with our High Efficiency Furnace and Air Conditioner
Rental Program
.